By Jasmine E. Crenshaw; February 21, 2020
The Idea Behind Amber's Project
2019 Alabama Fellow Amber Ingram has been working with youth from the Boys and Girls Club of West Alabama in the city of Tuscaloosa for her Fellowship project, which is aimed at building their advocacy and leadership skills through animal welfare education. She first learned of the idea through her academic mentor, Dr. Jeff Parker, and the similar work he had done with his undergraduate students. Amber's project is aligned with a long history of educational projects where youth learn better advocacy skills through animal welfare education; yet she has made sure from the beginning that at-risk youth from her community who do not have accessibility to civic education resources were the main participants and that the resources the youth would receive were adapted from an interactive workbook of her own design, entitled "Our City Underground".
Why It Is Important For At-Risk Youth to Learn About Animal Advocacy
During weekly sessions, Amber teaches her students about different issues affecting cats and dogs and advocating for these animals using her curriculum, hoping to ingrain leadership, communication, and self-advocacy skills into her students. At the end of the project period, Amber will have the students set up educational booths around the city to teach others the lessons they have learned throughout the year. When asked how valuable it is for elementary and middle-school aged youth to learn self-advocacy skills, Amber said, "The skills they learn early on will not only empower them to seek and enforce change as they grow but will provide them with a basis to educate others on how to be advocates and leaders in their communities." Amber's ultimate goal for these students after finishing her classes is to walk away with improved leadership, critical thinking, and advocacy skills that can be used for themselves, others, and especially the animals. The Tuscaloosa Spay and Neuter Incentive Program (TSNIP) acts as Amber's site partner, where her students are able to learn from the expertise of her site mentor, Beth Bobo, the president of the Program. "Amber's project, "Our City Underground", coincides closely with our mission and goals to teach youth in our community about the plight of abused and abandoned dogs and feral cats and how to be a responsible pet owner", Ms. Bobo stated.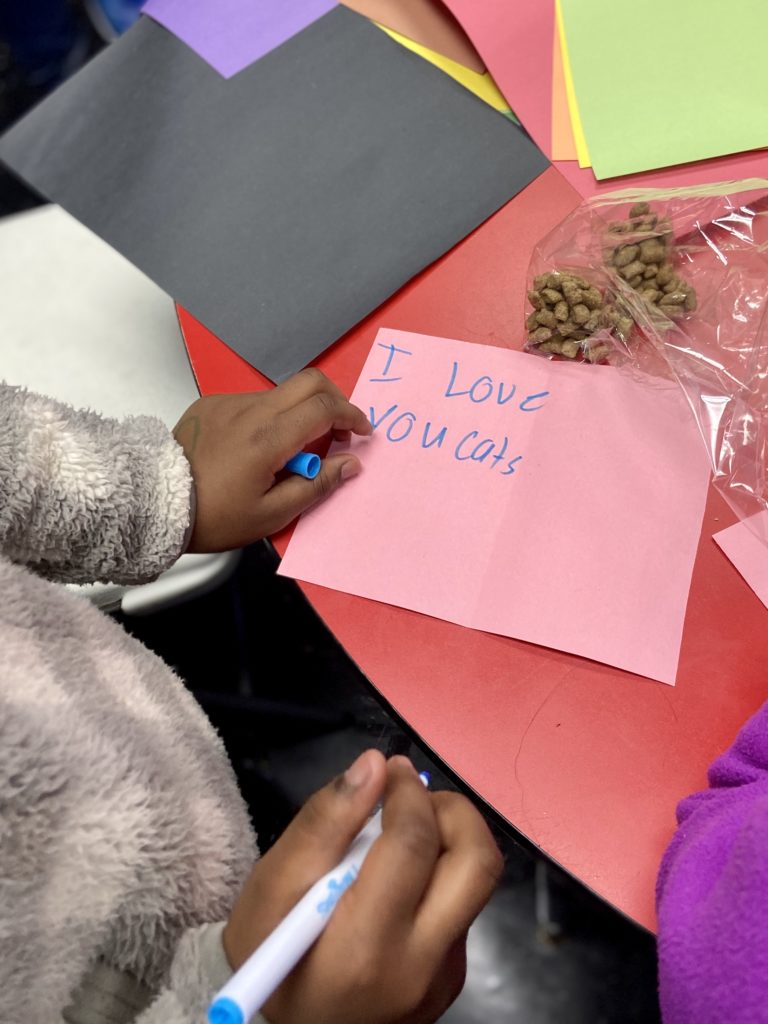 Her Educational Experience
Being an Experimental Psychology Ph.D. student at the University of Alabama, Amber has been able to implement a two-fold strategy into her project planning. At the university, she both teaches courses and conducts research as a part of her program. Her teaching skills, Amber says, has helped her learn more effective communication skills to use with her students, while her research abilities has allowed her to design resources and assessments that will measure any behavioral changes within her student participants, 
Triumphs, Challenges, and Lessons Learned
When asked about the triumphs and challenges of her project, Amber noted that her biggest triumph was an increase in interest about her sessions over the past few weeks after minimal interest at first. Her biggest challenge was "getting the youth all together in one place." She admitted to developing creative ways to deal with this challenge, which is the biggest lesson she has learned while completing this Fellow project. To deal with the many challenges the project has brought her, Amber has learned to "go with the flow" and to find creative solutions to the problems that appear.
—
You can donate to her project by visiting here.