---
By Javacia Harris Bowser
Since the early 2000s, Cahaba Valley Health Care has been providing free vision and dental screenings to the Greater Birmingham community. Edwina Taylor founded Cahaba Valley Health Care in hopes of serving Spanish-speaking residents who couldn't afford dental or vision care but soon there was a demand for these services from residents of all backgrounds.
Jennifer Garrison, current executive director of Cahaba Valley Health Care, is proud of all CVHC has accomplished through the years. What started as a service operating on a $1,000 yearly budget and offered out of the back of a van now serves thousands of residents, boasts an annual budget of $500,000 and operates out of Cooper Green Mercy Health Services Building.
"It's been a blessing to so many people and I've been able to see and witness that for myself," says Garrison.
Reviewing client demographics, Garrison has noticed, however, a decrease in the number of Spanish-speaking residents that CVHC serves. And she's determined to change that.
In addition to CVHC's bilingual website, the center's Spanish-speaking case manager has made sure important paperwork is translated as well.
But there's even more to be done.
"I've been out pounding the pavement, going to different communities and posting flyers and talking with people from HICA (the Hispanic Interest Coalition of Alabama)," Garrison says.
"There is sometimes a lack of trust within the Spanish-speaking community. When something's too good to be true to folks, they think something's wrong. When we pass out our flyers people would say, 'It's free? What's the catch?' So we're trying to develop that trust within the Spanish-speaking community to know that this is a safe place for people to go. We're here to simply help bridge the gap in services for people that need it."
Albert Schweitzer Fellows Samantha Chapman and Demetric Jones have signed on to help with these efforts. For their ASF project, the second-year optometry students at the University of Alabama at Birmingham (UAB) are creating Spanish language social media posts about eye health and speaking in radio advertisements and on the news.
"One of the things that's really been missing is making our social media accessible and in Spanish so that people can see and understand what we're offering and when we're providing our services," Garrison says. "I'm hoping that they can help us and play an integral role in getting that off the ground."
In addition to working out of Cooper Green Mercy Health Services Building, CVHC also partners with local churches and other organizations to provide free dental and vision screenings throughout the community. A robust, bilingual social media campaign will keep potential patients in the know.
Garrison is excited to work with Albert Schweitzer Fellows this year.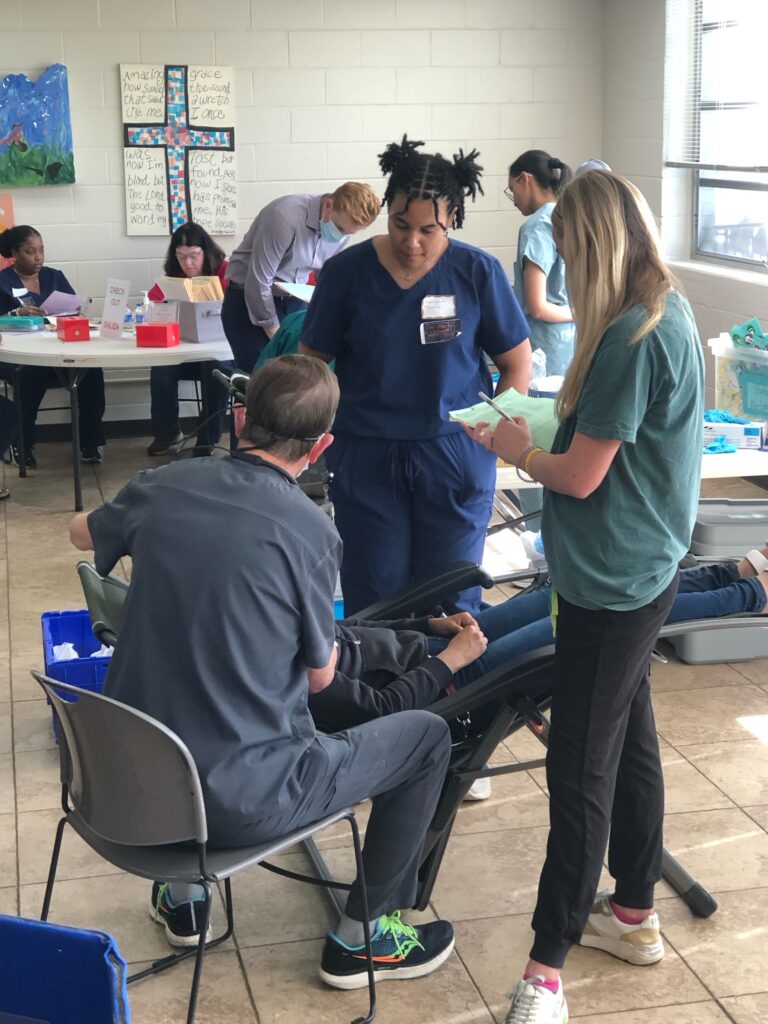 "It's nice to see people have passion for helping others and to see that what we do is a necessity in the community, and the fact that they want to help us share that with more people– it's a great feeling," Garrison says.
She adds that she's a fan of the ASF program largely because the fellows look to take on projects that will continue even after their fellowship is complete.
"It's a legacy," Garrison says, "and we're really proud to have them on board."
The need for Cahaba Valley Health Care is clear. Over 112,000 Jefferson and Shelby County residents are uninsured.
"And even when people do have dental and vision insurance, it is still expensive," Garrison explains. You still have ginormous co-pays!"
In addition to free screenings, CVHC provides x-rays, extractions, and fillings at its dental clinics. They also provide reading glasses that have been donated or purchased. Patients in need of specialty vision or dental treatment are referred to local affordable clinics and private practitioners.
Not having something as vital as dental care, for example, can affect so many areas of life.
"They feel shame because they haven't been to the dentist. And it's hard to work because it's hard to hold a job if you're in constant pain or you're embarrassed by your smile," Garrison says. "Our mission has always been to help people to not have to choose between getting needed dental work and feeding their families."