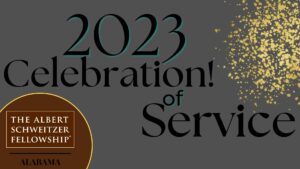 Join us in celebration of the 2022-23 Fellows to hear about their service experiences – the outcomes of their projects and the impacts it had on them personally. We will also award the 2023 Alabama ASF Humanitarian of the Year awardee, Ms. Frances Ford, and will introduce the twenty-one 2023-24 Fellows.
This event is our premier in-person, community-facing event of the year. It is both celebration and inspiration, an opportunity to recognize the achievements of our graduating Fellow class and their collective contributions to bringing health equity to Alabama through a myriad of service projects executed in partnership with our academic and nonprofit partners.
The success of these projects is not just a reflection of our Fellows' hard work and innovation, but of the impact and investment of those leaders who came alongside them to mentor and guide. In that regard, the 2023 Outstanding Site Mentor and Outstanding Academic Mentors will also be recognized:
Outstanding Site Mentor 2023: Bela Patel, DNP, CRNP and Michele Talley, PhD, CRNP of the PATH Clinic– nominated by Jamie Davison
Outstanding Academic Mentor 2023: Daniel Smith, Jr., PhD and Christine Ferguson, PhD, UAB School of Health Professions– nominated by Leandra Durham
All mentors will be recognized and honored for the role they play in our work – a true collaboration that operates in the sweet spot of overlap between academics and community practice, ensuring measurable results that endure.