Introduction
ASF Executive Director Kristin Boggs recently caught up with Drs. Caitlyn (Cleghorn) and Dustin Whitaker, both 2016 Fellows for Life. Caitlyn and Dustin worked with the St. Vincent's Birmingham Access to Care clinic for their partner project, where they provided patients with both clinic medication reviews and health education. By the end of the project, 17 of 19 patients who took part in their project reported either a better understanding of their medication, an increased sense of responsibility for their health, and/or better adherence to their medication regimen. Read their conversation with Kristin to see what they are currently doing post-Fellowship.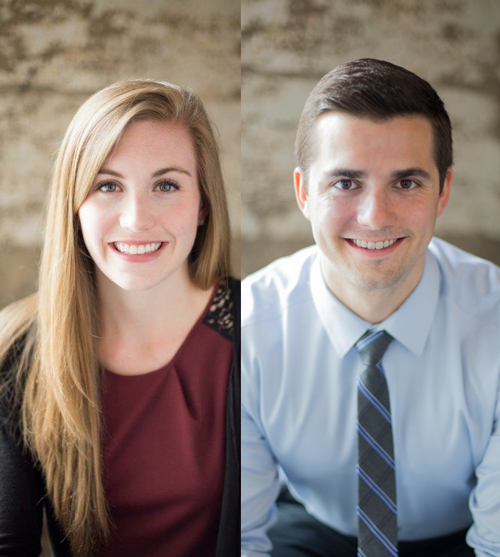 ---
Q&A with Caitlyn and Dustin
Q: Where do you currently work and what is your current position?
A: We both work at the University of Tennessee Medical Center in Knoxville, TN. Dustin is a PGY-2 Urology Resident, and Caitlyn is a PGY-2 Critical Care Pharmacy Resident.
Q: What does your day-to-day look like?
Dustin: I spend most days in the operating room, performing endoscopic and robotic urologic surgery. Common procedures include robotic prostatectomy and nephrectomies, laser surgery for kidney stones, and BPH procedures. When I am not in the OR, I can be found in the University Urology clinic, seeing patients for various urologic complaints such as BPH, urinary incontinence, erectile dysfunction, prostate/kidney/bladder cancer, and kidney stones. 4-5 days a month, I take 24-hour call for urologic emergencies such as difficult urinary catheter placements, urologic trauma, and infected kidney stones.
Caitlyn: As a pharmacist in an intensive care setting, my day-to-day can be somewhat unpredictable but generally consists of patient care responsibilities and academic commitments. I participate in rounds with multidisciplinary medical teams in the medical, neuro, cardiovascular, or trauma/surgical ICUs each day and respond to emergencies (code blues, traumas, and strokes). In between these, I precept pharmacy students and PGY-1 residents, conduct research on drug therapy in trauma patients, work in the COVID-19 vaccination clinic, and sit on various patient safety and process improvement committees at UTMCK.
Q: What type of impact does your Fellowship experience have on your current work? How have you been able to utilize the skills and lessons learned in your current work?
A: Our fellowship year taught us a lot about navigating barriers and developing good problem-solving skills. This served us well, as most of what we do in medicine is problem-solving – both from an individual patient care standpoint and in our various departmental obligations. During our Fellowship year, we learned a lot about health disparities which we now have the opportunity to influence in our careers through direct patient interaction and organizational involvement/advocacy.
Q: What is a piece of advice you have for our outgoing 2020 Fellow class and/or our incoming 2021 class about completing their Fellowship?
A: Keep working around the boulders and utilize the expertise of your mentors!