By Katie Stripling, Samford University —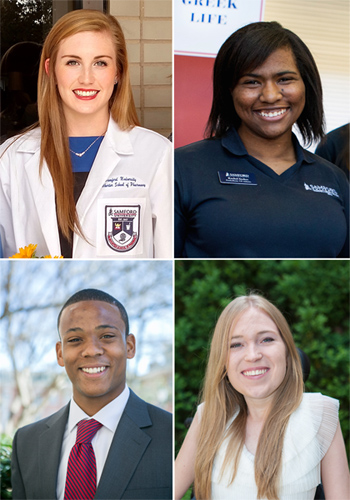 The Albert Schweitzer Fellowship (ASF) has named a current Samford University graduate 
The Albert Schweitzer Fellowship (ASF) has named a current Samford University graduate student and three recent alumni to its inaugural class of Alabama Schweitzer Fellows. McWhorter School of Pharmacy student Caitlyn Cleghorn and Howard College of Arts and Sciences alumni Frances Isbell '15, David Osula '15 and Rachel Stokes '14 are among 16 graduate students in Alabama, and approximately 240 nationally, who will spend the next year learning to effectively address the social factors that impact health, and developing lifelong leadership skills.
Schweitzer Fellows develop and implement service projects that address the root causes of health disparities in under-resourced communities, while also fulfilling their academic responsibilities. Each project is implemented in collaboration with a community-based health and/or social service organization.
Cleghorn, along with her fiancé Dustin Whitaker, a student in University of Alabama at Birmingham's School of Medicine, will implement a medication review system for St. Vincent's Health System's Access to Care program that includes health education for patients and a comprehensive clinical review of each patient's medications. "The need for medication review systems is growing in our health-care system, and it is a commodity that many insurance companies already provide to beneficiaries," said Cleghorn. "The people in the Access to Care program fall in the Medicaid gap; they are uninsured and don't have access to this type of service. Our goal is to provide a system that helps ensure that they are getting the best results from their medication therapy. We hope to increase their medication adherence and to empower them to take charge of their health to improve their overall quality of life."
"The fellowship will help me sharpen my leadership and communication skills, and prepare me to think critically about how to solve problems unique to every individual's circumstances," Cleghorn said of the Schweitzer honor. "I'm very excited to see how the relationships I form within this organization enrich my professional experience in the years to come," she added.
Following graduation from pharmacy school, Cleghorn plans to pursue a pharmacy residency and a career in either ambulatory care or clinical pharmacy.
Isbell is a Samford English and University Fellows alumna currently studying in the University of Alabama School of Law. At Samford, she earned the Gail Hyle Memorial Award and the Rufus W. Shelton Community Service Award in part for her advocacy of improved disability access on campus. She founded the DiversABILITY advocacy organization as an undergraduate. As a Schweitzer Fellow, she will open a chapter of NMD United in Alabama, create a support network for teens and adults with neuromuscular conditions such as Multiple Sclerosis and Spinal Muscular Atrophy, and organize pro bono legal clinics to help people with those disabilities access the resources they need to live independently.
Osula, a Samford biochemistry major and University Fellows alumnus, is studying in the University of Alabama at Birmingham School of Medicine. At Samford, he served as student liaison for the Habitat for Humanity housing ministry. As a Schweitzer Fellow, he will continue that community service focus by developing the Academy of Health Sciences Mentoring Program at Carver High School for high school students who are interested in healthcare careers.
Samford environmental science alumna Rachel Stokes is studying in the University of Alabama at Birmingham School of Public Health. As an undergraduate she was active in The Leading Edge Institute and many Samford student organizations, including the Student Government Association. For her Schweitzer project, she will address food insecurity in Birmingham by developing aquaponics and community gardens that will increase the availability of fresh produce year-round for partners and constituents of the Christian Service Mission organization.
"We are extremely proud of our inaugural class of Schweitzer Fellows. There was great interest in the program, and we are excited to see what our talented students accomplish over the next 12 months," said Kristin Boggs, director of the Alabama chapter of the Albert Schweitzer Fellowship. "We are confident that the Alabama Schweitzer program will make a lasting impact on the health of communities in and around Birmingham, Alabama, as our Fellows first learn to serve and support vulnerable people in living healthier lives, and then take those skills with them when they establish themselves professionally as leaders in their field."
Schweitzer Fellowships have an intensive leadership component, so that Fellows can go on to inspire others to improve the health of those who experience barriers to care. Fellows work under the close guidance of community and academic mentors during their fellowship year.
According to Sylvia Stevens-Edouard, executive director of the Albert Schweitzer Fellowship, the organization is pleased to bring the fellowship to Alabama. The program is known for having a ripple effect in communities as Schweitzer Fellows improve the lives not only of those they are directly serving, but their circle of family and friends as well; the impact on communities is lasting.
"Additionally, the process of moving Fellowship projects from an initial concept to completion teaches Schweitzer Fellows valuable skills in working with others in allied fields," said Stevens-Edouard. "As Schweitzer Fellows develop professionally, this skill is critical to their ability to effect larger-scale change among vulnerable populations."
Schweitzer Fellows work at program sites around the United States, as well as one in Lambaréné, Gabon, at the site of the Albert Schweitzer Hospital founded by Dr. Schweitzer in 1913. Upon completion of their fellowship year, the 2016–17 honorees will become Schweitzer Fellows for Life and join a vibrant network of more than 3,200 Schweitzer alumni who are skilled in and committed to addressing the health needs of underserved people throughout their careers, said Boggs.