By Jasmine E. Crenshaw
The Relationship Between Law and Public Health
Lita Waggoner, a current Alabama Schweitzer Fellow, found her project inspiration during one of her undergraduate public health classes. She recounted a video she watched in one of her classes about how a patient frequently requested antibiotic medicine to combat his frequent sinus infections. She mentioned how the second doctor asked questions about his housing conditions in addition to other medical questions. The patient informed the doctor that he had an apartment full of mold, so the doctor referred the patient to a lawyer who in turn assisted him in getting rid of the mold. This story illustrating legal and medical advocacy has stayed with Lita ever since that public health class and now serves as the spark for her Fellowship project with Legal Services Alabama.
A current law student at The University of Alabama School of Law, Lita had completed an internship with Legal Services Alabama (LSA), a nonprofit law firm that serves low-income Alabamians statewide, the summer after her first year of law school. She reached out to them about partnering on her Fellowship project because of her enjoyable internship experience and their interest in developing medical-legal partnerships across Alabama. Nell Brimmer, Lita's site mentor and a Managing Attorney of Client Access at LSA, acknowledged how Lita's project might help develop the first medical-legal partnership in the state: "There also aren't any other MLPs in Alabama right now, so this project is really the first, meaning Lita's work as a Schweitzer Fellow is breaking new ground. We've had to pivot and reimagine what this looks like a few times to address new challenges, and Lita has figured out how to tackle each new dilemma."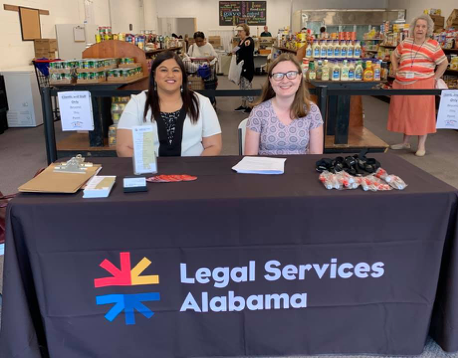 The Rural Health Justice Project
For Lita's project, entitled the "Rural Health Justice Project", it is a collaborative effort between Legal Services Alabama and the Rural Health Medical Program, Inc. (RHMPI), a health services organization with clinics located across the Alabama Black Belt. Her project aim is to provide legal assistance with the help of LSA to the RHMPI patients if they are referred by their service providers. Lita contends that "it is not unusual for people to experience health problems and legal problems simultaneously. Sometimes, an unresolved legal problem can worsen a person's health". As part of the project, the RHMPI staff refers their patients who might need legal assistance to the lawyers at Legal Services Alabama. Normally, medical providers are not trained in learning how to identify whether their patients' medical issues are impacted by legal ones. So Lita has provided virtual volunteer training sessions for RHMPI's staff to properly do so. She additionally held virtual volunteer training for law students to learn about conducting proper paperwork intake for the project. Lita recently led her first virtual clinic for RHMPI patients. She originally planned to hold both in-person volunteer training and legal clinics but had to shift those plans due to the coronavirus pandemic. Lita found the silver lining in conducting the clinics virtually. The need to travel to each of the eight RHMPI clinics for legal services was eliminated. She can now meet all of the providers, staff, and clients at once virtually.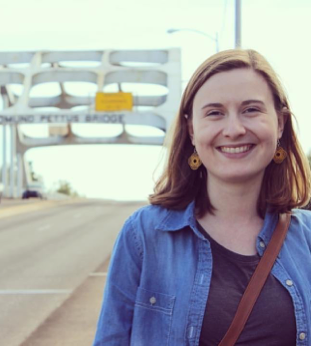 With meeting clients online, Lita has utilized her research and analysis skills learned from her time in law school at The University of Alabama School of Law to understand their needs. In honing these skills, she has been providing clients with improved follow-up questions about their situations and supervising professors with better research. Her site mentor, Nell Brimmer, acknowledges how Lita's legal and public health expertise has transformed the project: "Lita has worked hard to develop this project and has had to troubleshoot a variety of barriers – both those that existed prior to the pandemic and those that are exacerbated by the pandemic. This partnership has brought the best of both legal aid and medical care together to expand what access to justice can look like in rural communities."
Triumphs, Challenges, and Lessons Learned
Lita's biggest triumph has been able to share her knowledge about the connection between legal advocacy and public health to communities. She hopes that the RHMPI teams that she trains will become aware of how working with LSA can benefit their clients and that her fellow law students learn about how law can benefit public health. She reflected on the difficulties she experienced with the start-up process and acknowledged that it's best to be patient, flexible, and kind right now due to the pandemic. Ultimately, Lita hopes for her Schweitzer Fellowship project to "address some of the root causes of health equity in Alabama, making our state a healthier place moving forward."