By Samford University's College of Health Sciences
May 1, 2019 by Sarah Waller  —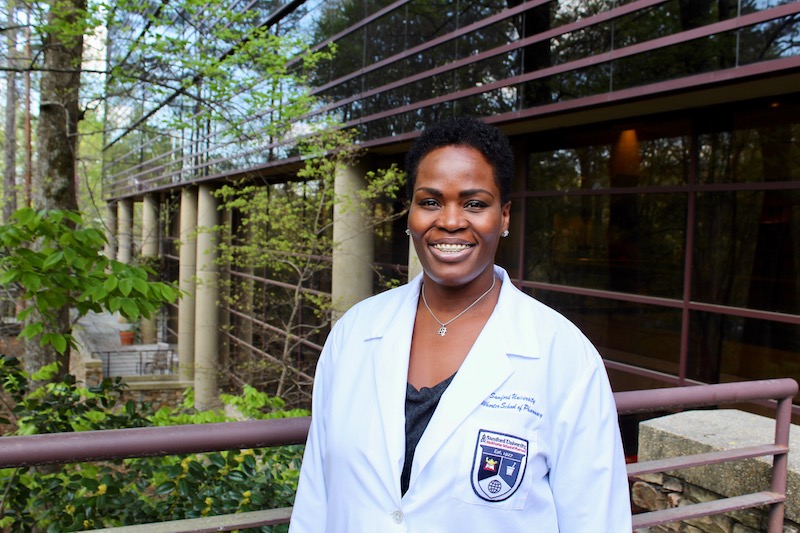 Domecia Brown, a second-year student in Samford University's McWhorter School of Pharmacy has been named to the 2019-20 class of the Alabama Schweitzer Fellows, a chapter of the Albert Schweitzer Fellowship.
Brown is among 14 graduate students in Alabama and hundreds in the nation who will spend the next year learning to effectively address the social factors that impact health and developing lifelong leadership skills.
Schweitzer fellows develop and implement service projects that address the root causes of health disparities in under-resourced communities while also fulfilling their academic responsibilities. Each project is implemented in collaboration with a community-based health and/or social service organization.
For the next year, Brown will be collaborating with the Jefferson County Department of Health on a new initiative called, "Let's Get Down, 35211." This public health program will focus on addressing factors associated with cardiovascular disease, including hypertension, diabetes and obesity, among citizens of the 35211-zip code, which is a prominently African American community in west Birmingham.
Brown was drawn to the project from the very beginning. "Cardiovascular disease is a powerhouse disease in the African American community," she said. "Yet things can often be improved if one can make lifestyle medications like with diet, exercise and medication information."
As she learned more about the developing program, Brown was surprised that it did not already include a pharmacy component. "Medicine is a huge factor in disease states like hypertension and diabetes," she said, so she began asking more questions and getting more involved.
Brown is now heavily involved in the program, participating in health screenings and educational events. She is excited to develop relationships with people in the area over the next year to better understand the needs of the community. "When you are able to meet people at their level so there is equal understanding, it's a beautiful thing," she said.
Assistant professor Crystal Deas is Brown's faculty mentor. "Domecia is a remarkable student. She is passionate about pharmacy and wishes to use her knowledge and skills to improve the health of patients in medically underserved areas. I know her compassion and determination will shine during her year as a Schweitzer fellow. I'm excited to come alongside her during this time and help her as she serves our surrounding community."
Brown is joining the Alabama chapter's fourth cohort of Schweitzer Fellows, following in the footsteps of Samford students and alumni Meg Booth, William Gafford and Newton Tinsley, Caitlyn Cleghorn, Frances Isbell, David Osula and Rachel Stokes.