By Jasmine E. Crenshaw
Creating Efficient Medical Care Workflows
Having worked in the medical industry as a nurse for over 30 years, Alabama Schweitzer Fellow Tanya Nix was familiar with using electronic medical records (EMRs) to help run medical visits more proficiently than paper records. According to studies, EMRs have made it possible for primary care providers to do the following: (1) capture a clear picture of patient health trends, (2) design better and sustainable workflows to be established between doctors and medical personnel, and (3) develop online portals for patients to review their personal health information. Using her extensive years of experience, Tanya partnered with the Changed Lives Mobile Clinic for her Schweitzer Fellowship project. The Changed Lives Mobile Clinic was developed out of a collaborative partnership between The Foundry, a Birmingham-area nonprofit that assists homeless people with healthcare needs, and the UAB School of Nursing in 2018. At the Clinic, medical assistance and access to an in-house pharmacy are provided to enrolled patients. Most medical records at the Clinic were completed on paper. Tanya's goal with her Schweitzer project was to convert those paper records to electronic medical records; this would help provide patients with more efficient care during and after the COVID-19 pandemic.
Building Electronic Medical Records
To complete this project aim, Tanya and the Clinic's team used the Apricot EMR, a system built by the community health professors and Information Technology (IT) department at the UAB School of Nursing. The Apricot EMR was created with the needs of the Foundry's population in mind. Tanya converted many of the Foundry's patient medical records into EMRs to be included in the Apricot's system by the end of her Fellowship year. She also worked with the Clinic's staff virtually to update medical identifiers for patients, including their demographics and past medical histories, so that the practitioners could utilize them quickly. Tanya achieved a few project outcomes, including improving the workflow for medical providers, producing reports that would help secure future funding for the Clinic, and reducing costs for the facility.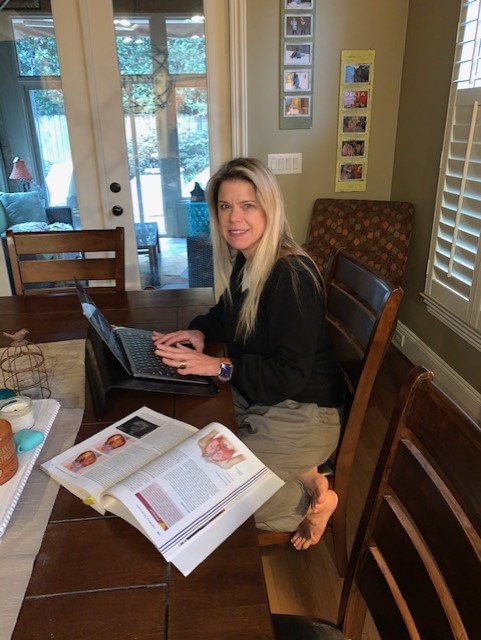 Project Experiences and Lessons Learned
Tanya was asked about the type of advice she would give herself at the beginning of her Fellowship year now that it is over. "My advice to myself at the beginning of the year would be to reach out to my other peers that were in ASF with me", Tanya responded. Tanya reflected on how helpful it was to learn more about the other Fellows in her class and their project plans. She was also appreciative of the support from ASF Executive Director Kristin Boggs and her mentors in the beginning stages of her project. Tanya noted that being in the Fellowship allowed her to network with organizations and learn how to research her project issue independently.
Tanya's experience working with The Foundry left her with a greater appreciation for serving diverse communities, especially after working alongside her academic mentor, Dr. Deborah Bowers, whom Tanya noted was an example of a compassionate provider who always demonstrated care and respect for the patients. The appreciation was reciprocal. "Tanya did a wonderful job on her project at the Foundry," said Tonya Judson, her site mentor. "She really stepped up and was the driving force for many aspects of the EMR and getting it done as well as mentoring other students." Tanya credits her graduate training at the UAB School of Nursing for being knowledgeable on the latest evidence-based patient outcomes research and challenging her in developing structured workflows for her current work.
Project Sustainability
Tanya's project will be sustained through the continued partnership of the Changed Lives Mobile Clinic and the UAB School of Nursing. Three 2021 Alabama Schweitzer Fellows will partner with the Clinic for their project over the next year. "I hope with the extension of my project by future Albert Schweitzer Fellows that the EMR is better revised from its early stages of development to improve the flow and access to records for the providers at The Foundry", Tanya replied when asked about goals for the project's second year.
---
You can watch Tanya's remarks from this year's Celebration of Service event here.