The excerpt below highlights Dr. Deborah Bowers, a 2016-17 Fellow for Life. The article is originally posted here: https://www.uab.edu/nursing/news/coronavirus/item/2433-seeing-patients-in-need
---
By Jennifer Lollar, UAB School of Nursing, April 7, 2021
Using our telehealth expertise, the University of Alabama at Birmingham School of Nursing is working with a local addiction recovery facility to continue to provide primary care during the novel coronavirus (COVID-19) pandemic for underserved patients, helping improve their quality of life and at the same time giving some undergraduate students opportunities for spring clinical hours.
Since January, School of Nursing faculty, including Deborah Bowers, DNP, CRNP, FNP-BC, Michael Mosley, CRNP, ANP-BC, and Emily Patton, CRNP, FNP-C, have had a faculty practice with The Foundry's Changed Lives Mobile Clinic, serving men at The Foundry's two residential facilities in Birmingham and Cullman in central Alabama. The clinic is part of The Foundry Rescue Mission and Recovery Center, a faith-based drug and alcohol rehabilitation program.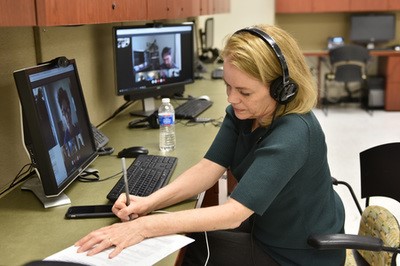 The faculty, in partnership with the School's Offices of Technology and Innovation and Clinical and Global Partnerships, have taken the Foundry's on-site clinic and remade it as a telehealth clinic to continue to provide much-needed care during this time of social distancing.
"Many of the patients we saw in our first virtual clinic had ongoing health issues that left untreated could potentially be life threatening," Bowers said. "Many of the men in the program have chronic diseases, high blood pressure or diabetes, and many more have mental health issues that are now compounded by the uncertainty surrounding COVID-19. Maintaining this clinic in the way we have hopefully helps keep CLCC and The Foundry Farm residents in their treatment program and keeps them from going to a local emergency room for primary care."

Dr. Deborah Bowers
---
To see the full article, please visit: https://www.uab.edu/nursing/news/coronavirus/item/2433-seeing-patients-in-need