By Jasmine E. Crenshaw; April 30, 2020
Building on Their Project Ideas
2019 Alabama Schweitzer Fellows Autumn Beavers and Cayla Bush set out with their respective projects to provide youth with knowledge and information that would expand their worldview with health sciences and social work. An MS2 student at the UAB School of Medicine, Autumn's project expanded on a college and career readiness mentoring program for George Washington Carver High School students created by 2016 Alabama Fellow for Life (FFL) and fellow UAB School of Medicine student David Osula.
Reflecting on her medical school science, Autumn felt it was necessary for the students to learn about and gain experience in the health sciences field so they might become interested in that career field. "We wanted students to not only have a more holistic view of the types of careers included in healthcare, but also understand the necessary requirements to becoming a healthcare provider", Autumn said. Cayla's project idea went through a similar reworking. Originally, she was going to focus on just the use of opioids in the Tuscaloosa community, but after researching about gender-based substance use disparities, she wanted to teach substance use prevention skills to young girls in the community. 

The Academy of Health Sciences at Carver High School and PRIDE of Tuscaloosa proved to be the best site partners for Autumn and Cayla to accomplish their project goals. Already familiar with Carver High School through her mentorship in the Academy of Health Sciences, Autumn thought working with the Academy again would be a "natural fit" and wanted to continue building that partnership. Cayla found a very knowledgeable and thoughtful partner in PRIDE of Tuscaloosa, where they provided her with "a space to evolve her project" and with a learning opportunity in becoming a substance use educator. PRIDE also assisted Cayla with lesson planning and developing discussion points for her sessions.

Project Overviews & Graduate School Influences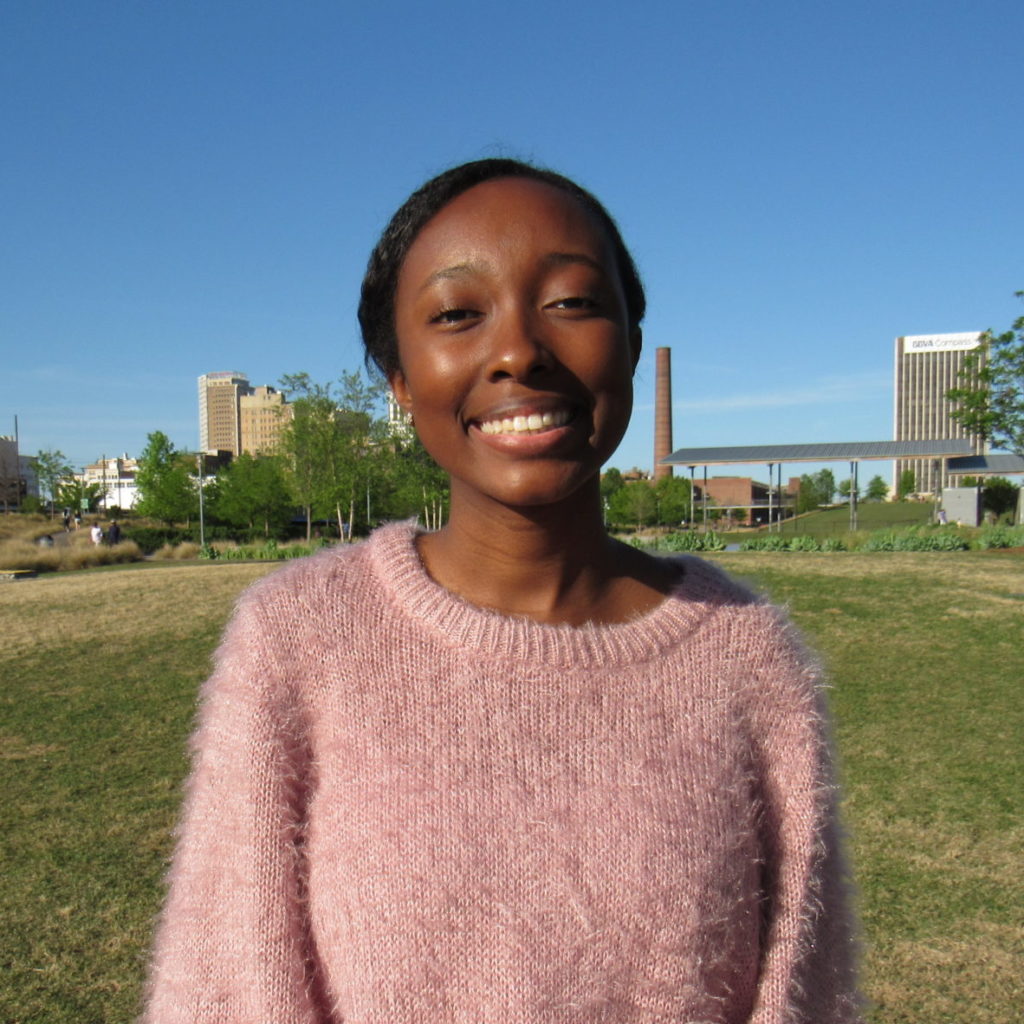 For her project, Cayla held weekly sessions with female juvenile offenders at the Tuscaloosa Juvenile Detention Center. During those meetings, she would discuss substance-related topics, including marijuana use, alcohol use, tobacco use, and resistance skills. She accompanied each lesson with an engaging activity to ensure the lessons would stick with her students. "For example, when we discussed self-esteem, we did facials. Or when we discussed marijuana use, we played basketball", Cayla said. Also, Cayla, a Master of Social Work student at The University of Alabama School of Social Work, assisted with other educational programming with PRIDE of Tuscaloosa, including a 6-week juvenile divergent program. Her work with PRIDE has been vital to the nonprofit's programming. "She is wonderful. She is great with coming up with her own ideas and ways to get involved", Briana Freeman, her site mentor at PRIDE stated. Autumn worked with 11th-grade students at the Academy of Health Sciences at Carver High School, equipping them with hands-on activities and meetings with local health professionals on and off-campus. The activities included CPR training and suturing and wound care workshops, while the health meetings included presentations at Carver and trips to the health-focused professional schools at the University of Alabama at Birmingham.

As a medical student, Autumn has been able to use her classroom experience since her Fellow project is closely tied to her student work. She said the principle of building rapport learned in her medical program has greatly benefitted her working relationships with the Carver students, ultimately leading her to be able to customize her program more to the students' needs. "It wasn't until students saw me coming on a consistent basis, that I started to see a change in their overall engagement and enthusiasm", Autumn noted. Cayla was able to use skills learned as a social work student, such as active listening and motivational interviewing, to build rapport with her students, similar to what Autumn had accomplished with her Carver High students. Cayla's social work classes, including those focused on chemical dependency, human behavior, and social work practice with communities, prepared her for structuring lessons and meetings and building rapport with community members so their needs could be noted.

Triumphs, Challenges, and Lessons Learned
As for any other Fellowship project, both Cayla and Autumn have faced challenges and improved following their Fellowship year. Cayla's biggest triumph, she said, was "learning from her students that the lessons she taught helped them to decrease or stop their substance use", while her biggest challenge was "finding ways to evolve the lessons she was teaching". She was able to identify curriculum resources to better customize the lessons for the young women at the detention center. Autumn's biggest triumph was being able to establish a working partnership with the Birmingham Education Foundation, which helped her gain access to the Health Science academies at other Birmingham City Schools, A.H. Parker High School, and P.D. Jackson-Olin High School.

Just like the rest of their 2019 Fellow class, Autumn and Cayla are at the end of their Fellowship year. During this year, they both said that the biggest lesson learned was how to be flexible. Cayla said that she had to reevaluate her plan multiple times, but she ultimately "learned to persevere" and developed better ways of accomplishing project goals more suited for her project population. Similarly, Autumn said that her project "constantly evolved" throughout the year, but was able to find new ways to accomplish project goals, leading to better partnerships and more ideas.

Cayla and Autumn have also reflected on the lessons that their students should carry with them upon finishing their respective programs. Autumn hopes that her students will feel inspired by their work in the program to possibly pursue a career in the health sciences. She hopes that "this program would be a pathway for them to not only realize and pursue their dreams, but to also discover a sense of purpose in their communities." Cayla also wishes for her students to know that "they have options". Cayla shared that she provided her students with information on achieving their goals after she had conversations with the students about what goals they want to accomplish. She said that she discussed with the students how substance use could prevent them from reaching their goals, but she tried to show them that "they can make their dreams a reality".