Mayowa's Project
For her project issue, Mayowa Otuada, a Doctor of Nurse Practitioner (DNP) student at the UAB School of Nursing and one of our 2020 Fellows, has been focusing on maternal health, mostly the issue of postpartum depression among Alabama mothers. Originally set up as an in-person support group, Mayowa transformed her idea into a virtual support group where her participants can seek assistance and support without leaving their homes or having to seek out methods of transportation. She has experienced some project triumphs so far, including increased attendance and group participation.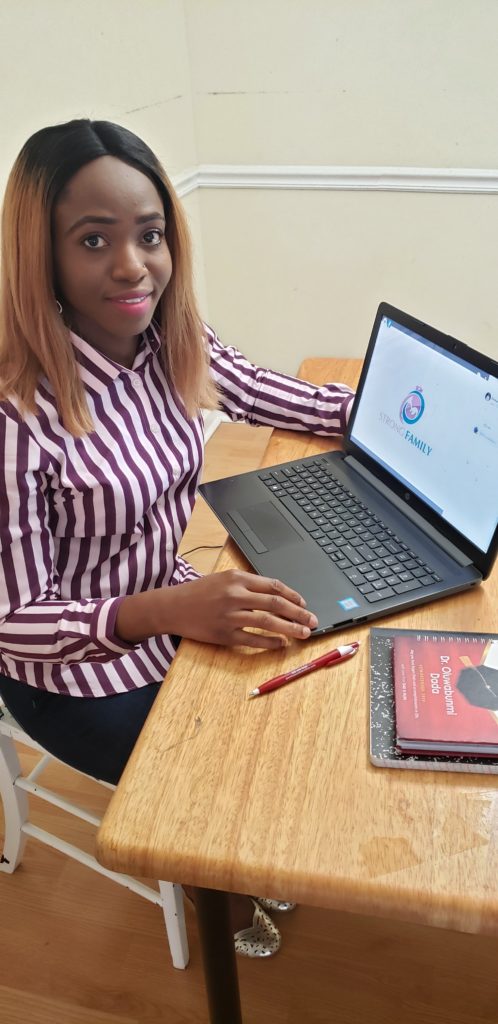 We recently spoke with Mayowa to reflect on her project progress so far and how she had to adapt her project due to the COVID-19 pandemic.
Q&A
Q: Where did you first learn about postpartum depression in Alabama and how did that experience inspire your project idea?
A: I learned about Postpartum depression and anxiety at my workplace at UAB Women and Infants Center. I read an article that talked about postpartum depression prevalence; about 1 in 8 mothers experience anxiety and depression either during pregnancy or during the postpartum period. Then, I went online to search for depression statistics in Alabama and it was high when compared to the national average. This inspired me to look for an organization in the community with this patient population. I met with Nurse-Family Partnership of Central Alabama coordinator, Dr. Knight, and she told me it is commonly seen among their patients. I decided to partner with NFP to address this health problem that is often disregarded and underdiagnosed in society.
Q: What made you want to work with the Nurse-Family Partnership of Central Alabama?
A: I got to know about Nurse-Family Partnership as a student nurse during my community clinicals as an undergraduate. I had the opportunity to go on a home visit with the nurses at the Tuscaloosa chapter. I knew they served an underserved population and monitored the mother and baby's health from pregnancy until the baby is age 2.
Q: Describe your project in detail.
A: To address postpartum depression in the Birmingham area by establishing an online support group for first time pregnant and postpartum mothers at risk for isolation and depression among Nurse-Family Partnership of Central Alabama (NFPCA) clients. The group aims primarily at promoting women's mental health, wellness, and social wellbeing with the goal of inspiring women's empowerment by improving their sense of independence and ability to get through challenges. In addition, this project would help pregnant women and mothers to decrease anxiety and the feeling of loneliness, to understand how to cope and deal with anxiety and depression, to encourage [them] to speak up if having suicidal thoughts, and to create an environment where mothers could mingle freely and encourage one another.
Q: Describe the benefits and advantages of having an online support group for this type of population compared to in-person support groups.
A: Having an online support group makes it easy for clients to join the group. It also increases participation. When a post is shared, clients can read at their own convenient time. It is less time consuming because clients can view posts and make comments using their smartphones. Information is readily available in the group and can be viewed at various times. Since it is not an in-person meeting, clients do not have to worry about transportation to attend meetings.
Q: Since the beginning of your Fellowship year, in what ways have you had to adapt your project planning or the way you engage your target population due to the pandemic?
A: I was supposed to start an in-person depression support group for NFPCA clients. However, I had to change to an online support group due to the pandemic.
Q: What has been the biggest triumph and challenge so far during your project period?
A: The biggest triumph has been having new members weekly/bi-weekly and an increase in group participation. The challenge has been trying to build trust with my clients. This may be because a lot of them do not know me and may not want to share personal issues. Even though it is a private group, some clients may not be comfortable sharing their stories. In order to address this, clients are encouraged to talk to their nurses if they have concerns and to speak up early if they are feeling depressed.
Q: What aspects from your graduate training at UAB School of Nursing have you been able to apply to your project?
A: My UAB DNP project is focused on implementing Depression Screening and Management Programs into routine clinical care at one of UAB clinics. The patient population is mainly oncology patients with depression. I would be able to apply coping mechanisms learned from clients in my online support group with these oncology patients since depression symptoms are the same for most people. Therefore, tools to address depression and anxiety used with clients in my online support group would also be used for my DNP project population.