December 2, 2019; By Jasmine E. Crenshaw
"There is nothing more awesome than to watch the lightbulb turn on and see someone put the pieces together and execute something", said Larissa Strath when discussing the biggest triumph of her Fellowship project so far with Cooking Well, a collaborative effort between Christian Service Mission and several Birmingham-area religious organizations that helps build nutritional empowerment among women and children. Larissa, currently a Behavioral Neuroscience Ph.D. candidate in the Department of Psychology at UAB, assists in teaching Cooking Well's frequent nutrition courses, where the goal is for students to leave their classes with better nutritional habits that can be passed on to others. For her Fellowship project, Larissa is focused on an additional population of people with chronic illness, in hopes to help them discern accurate nutritional information from the inaccurate to make sustainable and effective decisions for their needs. The main takeaways Larissa wants her students to experience upon finishing the courses include gaining confidence in their cooking skills, experimenting with new foods, making positive healthy choices, and sharing their newfound knowledge, mostly with their loved ones.

Her passion for the project has not gone unnoticed, either. "Larissa takes her work for Cooking Well very seriously and approaches her ASF responsibility as she would a professional pursuit," said Judy Vann, Director of Cooking Well and Larissa's site mentor. "The remarkably high level of insight, innovation and energy that Larissa brings to Cooking Well has elevated the potential health equity and community development potential of our initiative to a formerly unimaginable level."

Making an impact on her students who may have structural or financial barriers to building healthy habits is Larissa's biggest triumph so far while completing her project. She said that they "show so much drive and enthusiasm to learn". When asked about her biggest challenge so far with the project, Larissa implied that it is acknowledging her own privileges when speaking and working with her students. She stated, "We want them to be successful when they leave us, regardless of what barriers they may face outside of the walls of our kitchen. In order to do that, we have to try and imagine those barriers on the front-end and design our classes accordingly. After asking about her biggest triumph and challenges, I asked Larissa about her vision of health equity from a nutritional perspective. She discussed the barriers — the physical to find access, such as transportation, and the educational, in having access to nutritional knowledge, and she acknowledges that Cooking Well aims to break down those barriers through their programming.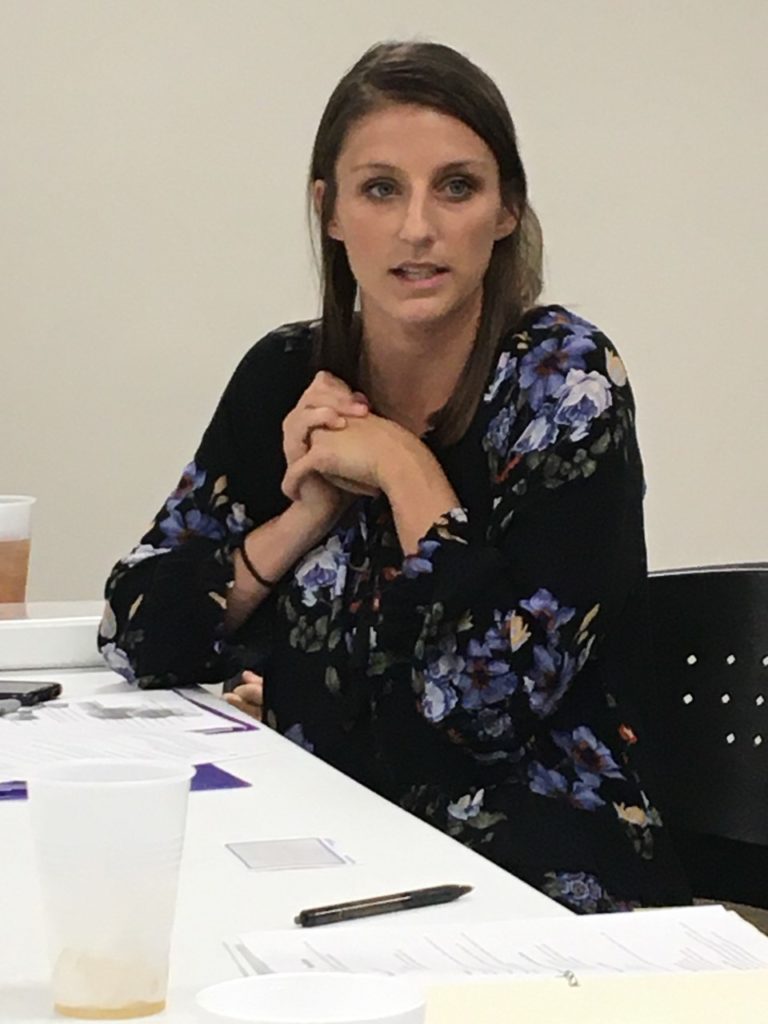 As November was American Diabetes Month and also marks the beginning of the holiday season, I asked her about a few tips that could benefit readers.
Drink plenty of water during the day.
Think whole, especially when it comes to carbohydrates! When foods are processed, they are often stripped of many nutrients including fiber. Fiber helps slow down the absorption of carbohydrates into the bloodstream, preventing spikes in blood sugar. Processed carbohydrates and sugars get absorbed very quickly and cause blood sugar to spike. Try and aim to have at least 8 grams of fiber with a meal – quinoa, brown rice, and vegetables such as sweet potatoes, broccoli, carrots and beets are great ways to get fiber into your system.
Replace some carbohydrates with good fat – monounsaturated fats can help lower your blood sugar! Just be mindful to not eat huge portions to avoid taking in excess calories. Avocados, nuts, seeds, olive oil are all good ways to incorporate healthy fats into your system. Add them to salads or entrees, and look for dressings that have olive oil as a base. You can also cook with it, or make a homemade dressing!
Go lean. Along the lines of fat, avoid dishes with lots of saturated fat. Choose lean cuts of meat or vegetable sources of protein like beans, lentils or nuts.
Eat the rainbow! This goes for everyone – when you look at your plate, try and fill it up with as many colors as possible. If you look at your plate and it looks pretty white, brown and bland, there is a good chance that you are consuming foods that are higher in calories and low in nutritional value. By making sure your plate is colorful (and there are some healthy foods that are white and brown!), you will not only have a balanced meal, but it will be loaded with healthy vitamins, minerals and antioxidants to help fight disease and aid with diabetes management.
Larissa and the team at Cooking Well were generous enough to provide healthy recipe ideas for the upcoming holiday season. Here is one of them below.
Slow-cooker Italian turkey meatballs
10 servings (serving size: 2 meatballs)
Ingredients
1-pound lean ground turkey
¼ teaspoon sea salt
½ teaspoon black pepper
1 egg, lightly beaten
½ cup whole grain breadcrumbs
2 cloves garlic, finely chopped
2 tablespoons fresh parsley, finely chopped
2 teaspoons olive oil
1 (28 oz) can crushed tomatoes
fresh basil and oregano
salt to taste
Instructions
In a large bowl, combine turkey, salt, pepper, egg, breadcrumbs, and parsley. Mix well, until thoroughly combined.
Hand roll mixture into 20 meatballs.
In a large skillet, heat oil and brown meatballs, turning occasionally for 4-6 minutes. Place meatballs into a 3-quart slow cooker.
Add tomatoes, oregano, basil, and salt to crockpot. Cook on low for 5-6 hours, stirring occasionally.
You can donate to Larissa's project by visiting here.