By Jasmine E. Crenshaw; February 24, 2020
Project Background
"My grandmother had high blood pressure for a long time, and due to a misunderstanding of the disease, she died from a heart attack", 2019 Fellow Domecia Brown recounted her first-hand experience of the effects of heart disease. This has informed her work at the Samford University McWhorter School of Pharmacy and her education around managing this disease in her future patients. She knows that lifestyle modifications, including exercise and physical activity, can help decrease the risk of cardiovascular disease, and she has implemented this knowledge into her Fellow project.
Working with African-American Churches
For her Fellowship project, Domecia has worked with local African-American faith-based communities and senior living facilities, such as New Hope Baptist Church and Princeton Towers, to conduct educational classes that are focused on the role nutrition education, medicine adherence, and physical activity all play in combatting both diabetes and heart disease. I asked Domecia about the role that African-American faith-based communities can play in improving the health of their parishioners, and she noted that information about those diseases can be made available to their congregation. Reflecting on the role Black churches played during the Civil Rights Movement as meeting spaces, Domecia elaborated that the church acts as a place for both worship and fellowship, so discussion and action around those diseases should occur there. 
Using Her Skillset From Samford University
As both a Pharm. D and M.B.A. student at Samford University, Domecia has received training in tracking and detecting high blood pressure and heart disease in patients, the possible complications of both diseases if not treated properly, and creating lifestyle interventions that will help ease the symptoms. "Samford has equipped me with an abundance of knowledge of how so that I may in turn serve my patients", Domecia said. She has been able to put her skillset into practice with those who attend her educational sessions and be of service to them. Upon leaving Domecia's classes, she wants her participants to feel empowered to better manage their diseases. Additionally, she wishes for them to know that properly managing these diseases now will lead to fewer complications in the future.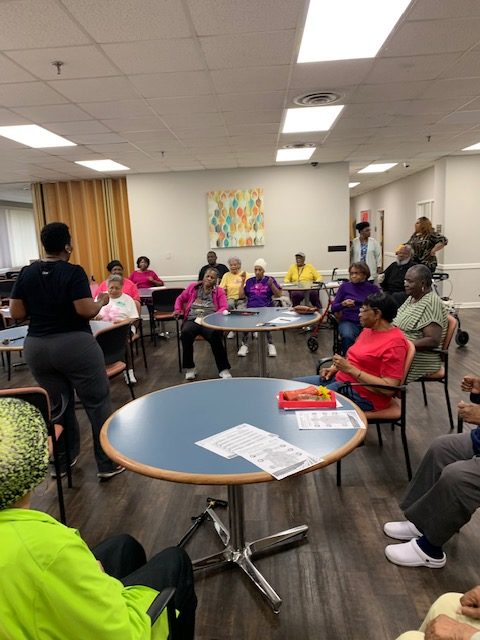 Project Triumphs, Challenges, and Lessons Learned
Domecia has found that her biggest project triumph was meeting people who wanted to implement the changes she was teaching about, while her biggest challenge was combatting the misinformation about heart disease and diabetes previously believed by her participants. She stated that some participants may have believed that medication was the only solution to cope with their diseases, despite it being only one part of the solution. 
Members of our 2019 Fellow class, including Domecia, are almost at the end of the Fellowship year, so I asked her about the lessons learned while creating and executing this project. She learned that many barriers exist for lower-income communities when it comes to improving their health. Domecia explained that the community being served by this project, those who live within the zip code of 35211, are located within a food desert, where access to fresh food and activity spaces are limited. She had to be considerate in making suggestions around fresh food options and menu alternatives.
With her project, Domecia is empowering her participants and the communities they live in to take control of their health.
—
You can donate to her project by visiting here.