---
By: Javacia Harris Bowser
Albert Schweitzer Fellow for Life Hadiyah Page believes in the transformative power of the arts. For her 2020-2021 fellowship project, she partnered with Impact Family Counseling to provide trauma-informed creative outlets and mindfulness practices to 7th and 8th grade students at Tarrant High School. Hadiyah, who was a student in UAB's School of Public Health master's program, set out to explore how art therapy practices could be used to help young people cope with trauma, especially trauma caused by exposure to gun violence.
"Inner city public school students are three times more likely than their over-the-mountain peers to experience gun violence," Hadiyah says. "Black students aren't always provided with tools to be able to address all the things going on in the world around them – especially in the South."
Hadiyah knows from experience that art can heal. Though she didn't lose her father from gun violence, his death was devastating for her.
"My dad passed when I was seven and I can remember one of the number one ways that I started to feel better was by creating something," she says. "Without even realizing it, I was dealing with my emotions as a child through art. And it's all kinds of art. I grew up in a church, so I'm a singer. I'm a dancer. I am an acrylic paint artist. And I've been drawing my whole life."
She not only wanted to teach students coping strategies, but she hoped to boost their confidence and build community along the way.
"I knew that it would be something that could help students learn more about themselves, learn more about the world around them, and really form a community within the classroom setting, which has not always been available for inner city public schools," Hadiyah says.
One of her most memorable moments from her ASF project was the talent show she organized for the students. At first, many of the kids thought they had nothing to offer.

"It was just a lot of negative self-talk," Hadiyah recalls. "Somebody said that to them, so then they started to believe it for themselves. That's a potential cycle of violence because once you start to feel inadequate, and once you start to feel incapable, it doesn't quite create much growing room. I wanted to feed light to them the same way that I've had people feed light to me."
One of the people who has inspired her most, Hadiyah says, is her mother.
With Hadiyah's encouragement, the students put on an amazing show.
"They showed out!" Hadiyah says. "We had a beatboxer. We had an artist. We had an actor. We had a poet. They have all types of talents."
Hadiyah doesn't take credit for the talents or the confidence the students displayed on stage.
"I do think that they were that way before; it just took them having a platform and I'm happy that I was able to give them that," she says.
But along the way, Hadiyah was boosting her own confidence too.
Fast forward a couple years and Hadiyah was involved in another talent show, this time as a contestant. She sang Whitney Houston's "I Have Nothing" and she won. But her award was bigger than any trophy.
This talent show was hosted by the student government association at Ross University School of Medicine, where Hadiyah just completed her second year.
The school's main campus is in Bridgetown, Barbados.
"I did my first two years on the island and living in Barbados was an experience that I will always cherish," she says.
She immersed herself into the culture.
"I loved being a part of the history of the island," she says. "I was there to witness them inaugurate their first president and I was at the ceremony."
So was pop-star and beauty business mogul Rihanna, who received a national hero award.
Hadiyah has served as vice president of the Black Female Doctors Club and did a number of community service projects — working in schools, doing clothing drives and more.
---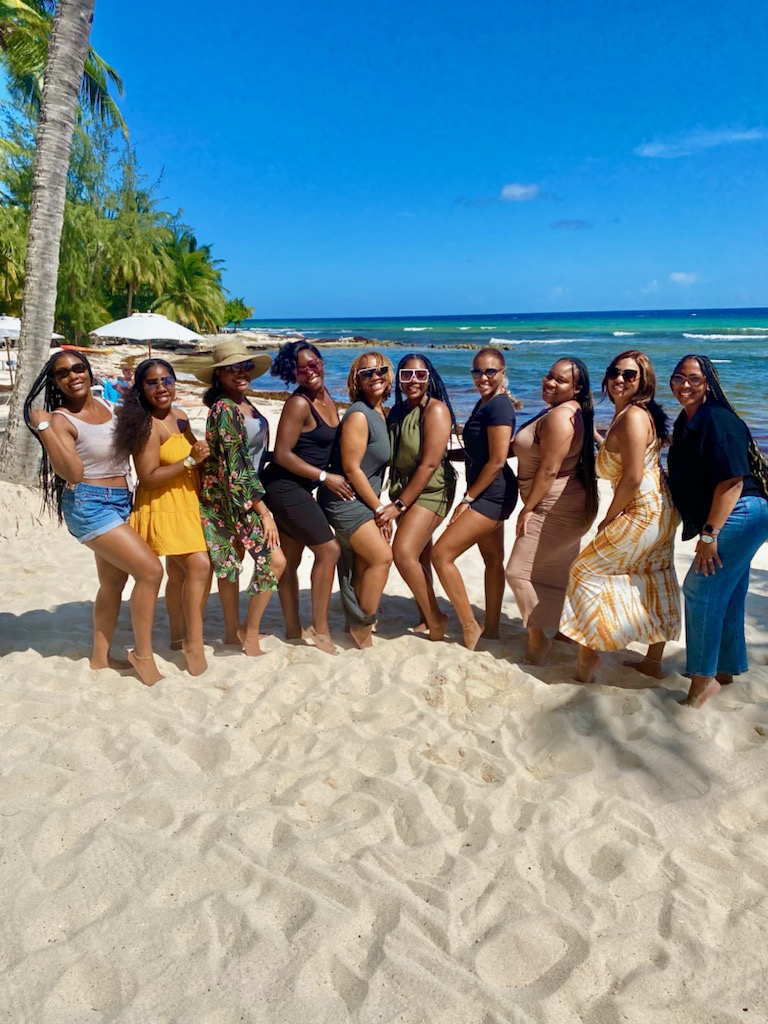 ---
"I really enjoyed the family that I was able to build there and the connections I was able to make," she says. 
In undergrad, Hadiyah admits she was apprehensive about taking on many extracurricular activities and community service projects. She worried she'd get stressed out and wouldn't be able to maintain her grades. But her time in the Albert Schweitzer Fellowship showed her that she's more resilient than she thought and her time in Barbados has reinforced this lesson.
"I didn't just have to focus on just being Hadiyah the doctor and was able to just be Hadiyah in all the different ways that I show up," she says. "I was really able to tap into a lot of areas of myself that I have not yet tapped into before."
And that includes leaning even more into her creativity, which she hopes she can continue to do even after she finishes medical school.
"I seek to position myself where I'm able to use all of my degrees and be able to fill my creative cup too," she says. "I want to be creative in a way that can benefit the people that look like me."
Hadiyah hopes to specialize in psychiatry.
"We need more mental health professionals in the Black community," she says.
She looks forward to seeing what both she and her Albert Schweitzer Fellowship cohort will accomplish in the future.
"Well-rounded individuals, we create better opportunities for ourselves, which means we're also going to create opportunities for other people," Hadiyah says. "That's essentially what I think is my calling and that's why I'm glad I was able to be a part of ASF because it taught me that."