The Board of Directors of the Albert Schweitzer Fellowship of Alabama is pleased to announce the third-annual Give Thanks fundraiser to support the work of the 2022-23 Fellowship cohort. This year, orders will need to be placed by November 7th and will be delivered on the evening of Thursday, November 17th and during the day on Friday, November 18th.
Dr. Albert Schweitzer once said, "The greatest thing is to give thanks for everything. He who has learned this knows what it means to live. He has penetrated the whole mystery of life: giving thanks for everything."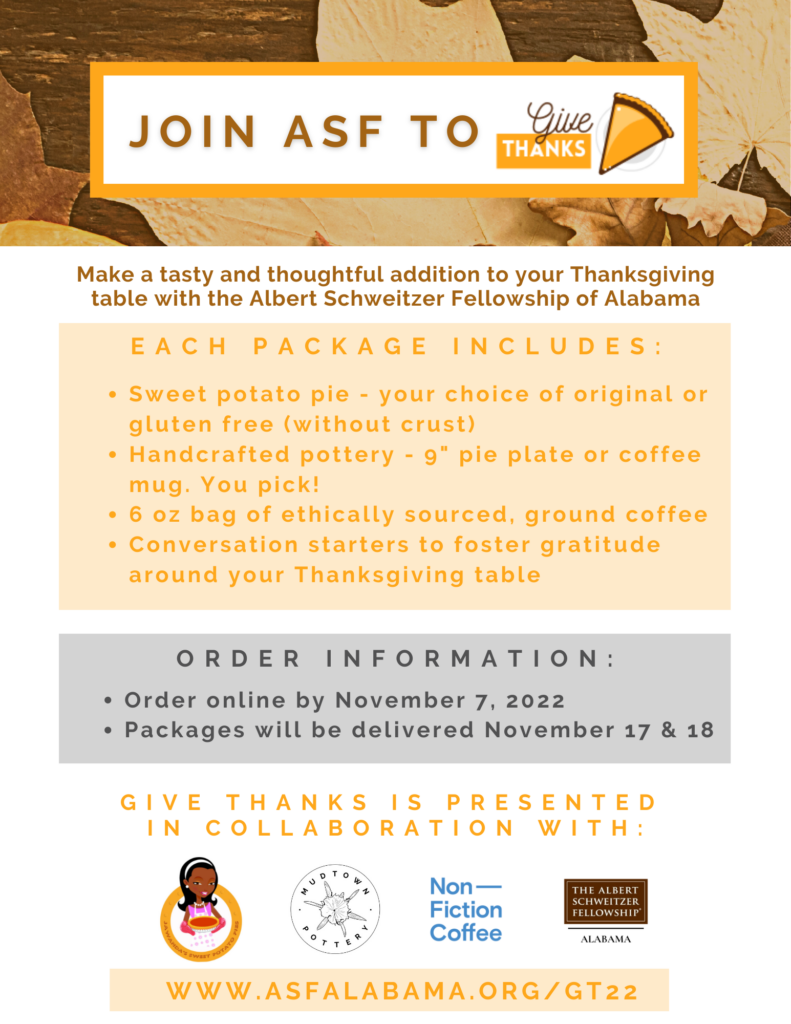 By purchasing a Give Thanks package, you'll support the work of ASF of Alabama as we mobilize graduate students to address health disparities and the social determinants of health.
Packages will include a sweet potato pie, handmade piece of pottery for serving, and conversation starters for encouraging gratitude. The price includes delivery within a 15 mile radius of Birmingham.
Participants will also support local, small businesses during this important time. We appreciate the partnership with JaWanda's Sweet Potato Pies, a family-owned bakery in Birmingham, Mudtown Pottery, a ceramics studio making handmade pottery in Cahaba Heights, and Non-Fiction Coffee an ethically-sourced coffee company roasting beans in Pelham.
Participants can choose whether to get the:
-original or gluten-free pie
-pottery pie plate (9″) or a mug
-and all will receive a 6oz. bag of ground coffee, as well.
The order form also allows people to indicate which day and time frame will be best for delivery. Want to order a package for someone else? No problem! Simply add the recipient's name and address on the order form and we'll deliver to them. They make great gifts on behalf of a company, as your clients or employees will see that you care for them and support the community.
Each package costs $100; the retail value of packages is $54.50 or 59.50, which means that each package purchased will include a donation to ASF of $45.50 or $40.50 and donors will receive a tax-donation receipt indicating such. Order below by November 7th, or before packages run out. Quantities are limited, so early orders are encouraged!