---
By: Javacia Harris Bowser
The Albert Schweitzer Fellowship is excited to partner with the Arts in Medicine Program at the University of Alabama at Birmingham this year and work with people like Kimberly Kirklin, director of the program.
Kirklin has always believed in the power of the arts. That's why she served as the director of education and outreach at the Alys Stephens Center from 2005 – 2014. That's why she holds a bachelor's degree in musical theater from the University of Miami in Florida and a master's in arts administration from Goucher College in Towson, Maryland.
When the Birmingham native witnessed spoken word artist Shariff Simmons build authentic connections with once skeptical students through poetry and music she began to realize the arts could be even more powerful than she once thought.
"He would do one of his spoken word pieces, accompany himself on guitar, and the kids would be just mesmerized," Kirklin recalled. "And then they would all want to participate. No matter what age, they wanted to be a part of this. I started to wonder, if the arts could do that in an educational setting, what else can art support?"
So she started doing some research which led her to learning more about arts in medicine. In 2013, she led the expansion of the ASC's outreach into the healthcare community. She helped create a pilot program that would train professional artists how to navigate a healthcare environment and give them the opportunity to create or perform for patients facing long-term hospital stays. They started with bone marrow, heart, and lung transplant patients. They also served families with children in the neonatal intensive care unit and adolescents receiving long-term psychiatric care.
Surveys revealed that 82 percent of the patients served experienced a reduction in pain or anxiety after their arts interaction.
Kirklin, who also has a master's in Arts in from the University of Florida, knew this pilot program was ready to soar.
And so UAB's Institute for Arts in Medicine (AIM), a partnership between the ASC and UAB Medicine, was born.
"Our mission is to enhance healing, and wellness for patients, family members, and staff in health in hospital settings, but also to support people with a variety of health conditions in community settings," Kirklin says.
The artists who are a part of the Arts in Medicine program might work with patients bedside or in a small group. Some artists also bring their work to public spaces within the hospital. This could look like playing music or reading poetry. This could be performing a dance piece, a monologue or a one-act play. This could be teaching someone to write, to paint, or to sew.
The Arts in Medicine program expands beyond UAB too. Folks from all over the country with spinal cord injuries are Zooming in to meet virtually in small groups with professional writers.
---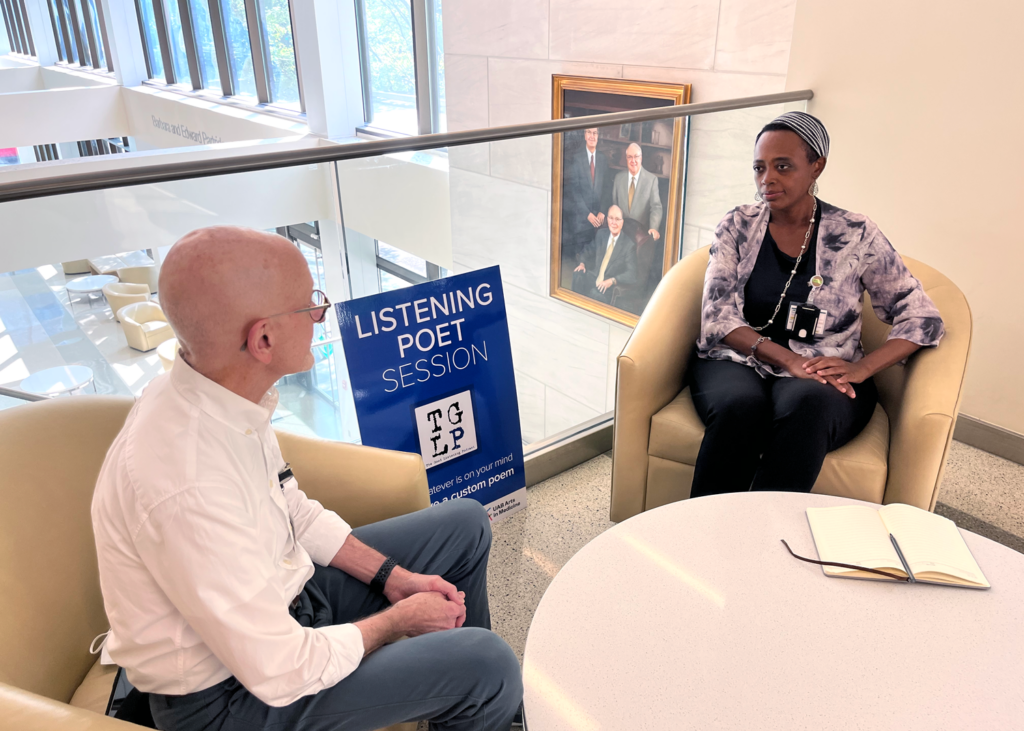 ---
Art for art's sake
Though they seem similar on the surface, art therapy and arts in medicine are not the same, Kirklin explains.
Art therapists are healthcare professionals who are using art to achieve a specific health-related goal.
"With Arts in Medicine, a professional artist goes into a space and they don't have any agenda or goals," Kirkin says. "They go in just to be present, to acknowledge that person as a whole person. They might not know even what exactly the diagnosis is, and that's just fine, because we don't need to know. We're connecting with who they are when they're not in the hospital. We're connecting with who they are as a person with hopes and dreams and fears, and maybe family and a lifetime of experience."
Kirklin says that studies have shown that engaging in an arts in medicine program can result in faster recovery rates for patients and even reduce the need for pain medication. But she believes the impact is more than medical.
"It's a wonderful tool for expression," she says. "They can express themselves without having to say a word. Creating gives you a sense of control over your environment," she adds, something that's hard to come by when you're stuck in a hospital room or under psychiatric care.
Furthermore, it also promotes a sense of social connection, which is vital given that research shows that isolation leads to earlier mortality.   
"And learning a new skill," Kirklin adds, whether that's writing, painting, or sewing, "that increases and enhances self-confidence."
---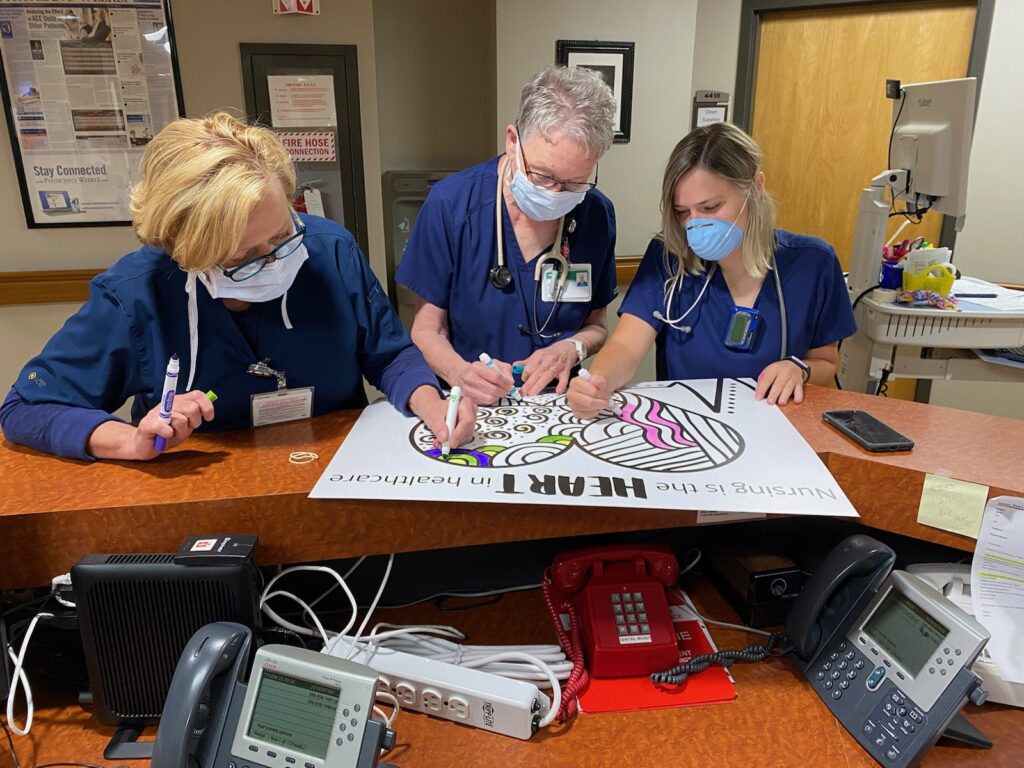 ---
Albert Schweitzer Fellow Sarika Mullapudi will be working with UAB's Arts in Medicine program for her project. Her goal is to create a weekly knitting program for oncology patients in order to help decrease symptoms of stress, anxiety, and depression while also giving patients a sense of control during their hospital stay. By participating in this program, patients will be able to use knitting as a form of self-expression and will have the opportunity to donate items they create to other patients in the hospital.
This project would not only help individual cancer patients but also help build community.
"The goals [of ASF] directly align with what we do, in terms of patient-centered work and whole-person care," Kirklin says. "We're interested in making arts in healthcare, just standard practice, so the more people that know about it and that are interested in it, the better for everybody."
Kirklin believes a partnership with ASF is a perfect fit and has great potential.
"I truly believe," she says, "that engaging in the arts can change the world."