By Javacia Harris Bowser
November is National Diabetes Month. But for Albert Schweitzer Fellows Leandra Durham and Jamie Davison, bringing attention to diabetes is much more than a month-long pursuit.
Both Leandra and Jamie have taken on projects for their fellowship that will help underserved populations affected by diabetes.
Leandra has partnered with Lakeshore Foundation to enhance and adapt the Diabetes Empowerment Education Program that the organization is implementing. Located in Birmingham, Alabama, Lakeshore Foundation is a fitness, recreation, sport, research, and advocacy organization for people with physical disabilities. Leandra's goal is to help make the program more inclusive of diabetes patients who have physical disabilities and the aging population. To do so, she'll be using the Guidelines, Recommendations, Adaptations, Including Disability (GRAIDs) framework which was developed by the National Center on Health, Physical Activity and Disability (NCHPAD). Founded in 1999, NCHPAD is a public health practice and resource center on health promotion for people with disability.
"To me, diabetes is personal," Leandra says. "It is prevalent in my family, in my significant other's family, and it has definitely affected my life. And so, if there's something that I can do to help others to better manage their diabetes, then I would love to take that opportunity."
So, Leandra, a second-year doctoral student in the School of Health Professions at the University of Alabama at Birmingham (UAB), jumped at the chance to work with Dr. Christine Ferguson on this project.
"There's a higher prevalence of diabetes in people with physical disabilities and the aging population," Leandra explains, adding that diabetes patients with physical disabilities or of advanced age can have a host of unique needs.
A wheelchair user, for example, may find it difficult to use a stovetop.
"And when it's challenging to cook, sometimes it can also be challenging to eat healthily," Leandra says.
Furthermore, due to limited transportation and financial resources, patients can also lack access to healthy food options as well as the people and places that can help them learn about and better manage the disease.
The educational program Leandra is helping to adapt will help diabetes patients learn more about the disease, how it affects the body, and how diabetes medications work. Leandra's hope is that the program will empower people with diabetes to feel they can partner with their healthcare team to get the disease under control.
Leandra, a registered dietician, is also developing some additional nutrition education modules for the program.
"My goal is to help them understand that you may not necessarily need to do anything fancy to eat healthily," she says. "There may be ways to buy some frozen vegetables and pop it in the microwave and ways to make meals that are inexpensive, that taste good, and that are healthier and easy to make."
Like every Albert Schweitzer Fellowship undertaking, Leandra's project is a team effort. In addition to working with Dr. Ferguson, Leandra is also being mentored by UAB's Dr. Daniel Smith Jr., assistant professor of Nutrition Sciences at UAB's School of Health Professions. Carol Kutik, director of fitness and health promotion at Lakeshore Foundation, serves as Leandra's community site mentor.
The educational program also includes some fitness instruction from fitness specialist Crystal Russell, who serves as Health Promotion Coordinator at Lakeshore. She's showing diabetes patients with disabilities physical activities they can perform seated to get in some exercise even with limited mobility.
Leandra is confident that the educational program she's helping to adapt will be implemented long after her fellowship is over.
"Most of us [Fellows] want to see [our projects] become sustainable," she says. "But that can't happen with just one person. I've been really lucky because I have everybody helping me out and on board."
She also feels lucky because she's having so much fun.
"They're a great, fun group of people over there," Leandra said of the folks at Lakeshore Foundation. "I definitely am always laughing, and the fun part is they create their own community, which is cool to see."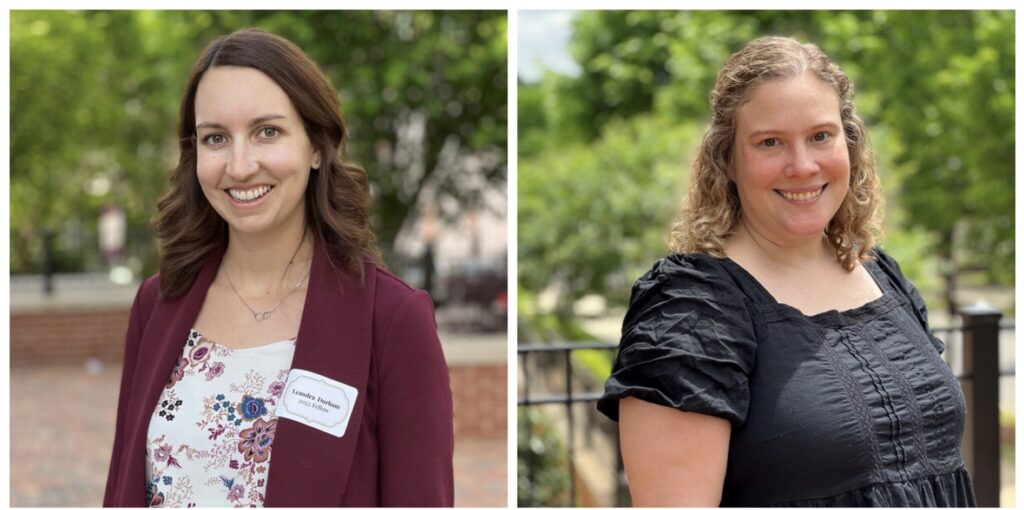 The Bridge Across the Digital Divide
Jamie Davison is on a mission to bridge the digital divide that can prevent many diabetics from getting the care that they deserve. For her project, she's teaching diabetes patients how to use smartphones to help better manage the disease.
Bluetooth glucometers, calorie-counting apps, and even meditation apps can all help improve health outcomes.
"Giving them the smartphone is supplementing their well-being in a really holistic way and using technology to do that," Jamie says.
Two previous Albert Schweitzer Fellows inspired Jamie to take on a project like this. Malik Seals and Margaret Lloyd worked collaboratively on a project to help older adults increase their technology skillset and combat feelings of isolation.
When Dr. Michele Talley of UAB's PATH Clinic – which serves individuals living with diabetes – received a grant to give dozens of patients smartphones, Jamie saw an opportunity to get involved. For her project, Jamie will strive to help participants improve their health technology self-efficacy. First, project participants will be asked to rank their confidence in their ability to do different tasks such as changing the settings or preferences on their smartphone, using email, logging into Zoom, or connecting to WiFi.
Then after being trained on how to complete certain tasks, participants will be asked to rank their confidence in their abilities once again. The goal, obviously, is to see a boost in confidence.
"The idea is to help them see that they can change their confidence and their self-efficacy quickly with a small amount of information and a small amount of effort, and then hopefully inspire them to pick a new goal and see what else they could learn how to do," says Jamie, who is a second-year medical student at UAB.
Jamie has been working to find ways to bridge the digital divide even beyond her fellowship project. She's the founder of TECH (Technology, Equity, Consulting, and Health) SIG (Student Interest Group). The group, which already has 50 members, encourages students to volunteer in the PATH Clinic to do technology consultations for people who need them.
Through both her project and her student interest group, Jamie is showing others how to make a fast and lasting impact on a person's life.
"You can definitely make people's lives bigger," she says, "with a small act."