By Jasmine E. Crenshaw
Project Inspiration
Spanish-speaking patients at the UAB School of Dentistry clinic use Blue Phones to get translations about dental services and treatment. When those Phones are out of service, those patients often rely on School of Dentistry students who speak Spanish for assistance. When neither Blue Phones nor students are available, Spanish-speaking patients are often left without a method of communication, making it harder to acquire the correct information about their dental care. As one of the few Spanish-speaking UAB School of Dentistry students, 2020 Alabama Schweitzer Fellow Ana Ospina has often been asked to translate for patients. Ana noted that being able to communicate necessary information to patients about their dental health is crucial. If Spanish-speaking patients don't receive proper translation and communication, the patients' care and recovery would be hindered, she explained. Her Fellowship project sought to make her fellow Dentistry students and future ones more knowledgeable with Spanish-language dental education, which would help more Spanish-speaking patients.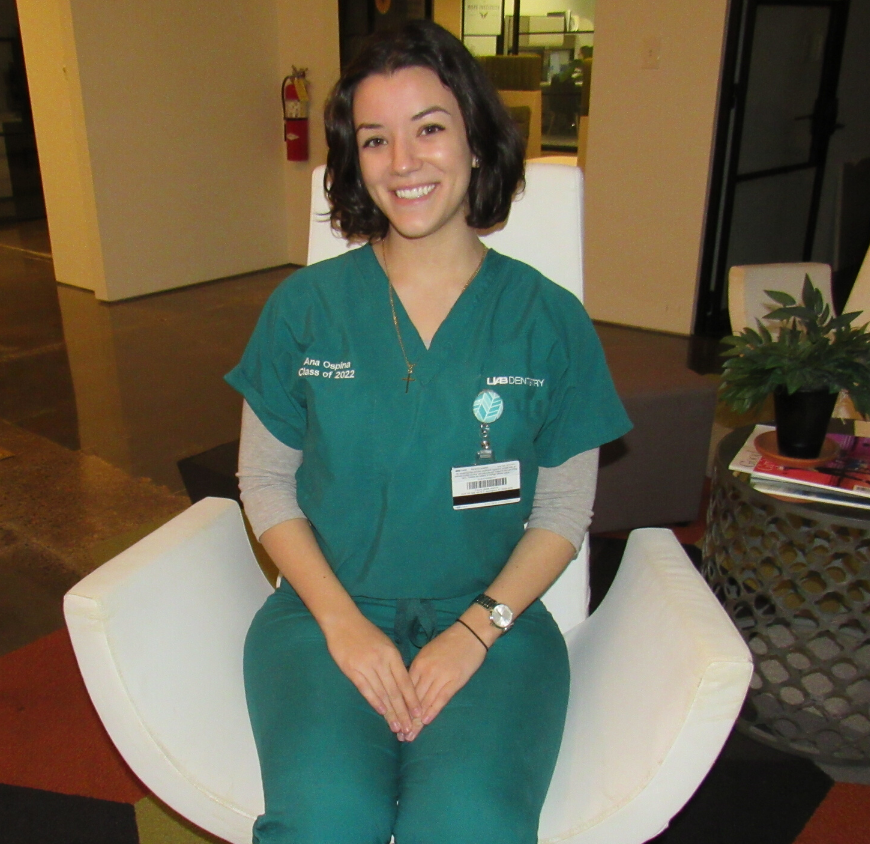 Teaching Students to Provide Culturally-Competent Dental Care
Ana developed a Dental Spanish course with four lectures that were incorporated into the School of Dentistry's curriculum. The lectures cover essential communication and conversation skills to be used during clinic interaction with patients. She surveyed faculty members and students about content materials to be included in the lectures and worked with her mentors, Drs. Carly McKenzie and Raquel Mazer, to determine which common scenarios to teach translations of to students. Ana's lectures were then taught to the D2, D3, and D4 cohorts. Since the lectures were introduced to the D2 – D4 cohorts later in the curriculum, Ana presented the information in a more condensed format. "We strive to make sure our graduates are prepared to serve diverse populations and meet the oral health needs of our communities," said Dr. Carly McKenzie. "Being able to communicate with Spanish-speaking patients about common dental conditions and procedures will hopefully help make a visit to the dentist seem more accessible for many of our neighbors".
Project Outcomes, Impact, and Lessons Learned
Over the past year, Ana taught her Dental Spanish curriculum to 282 pre-dental students and evaluated students' perception of the course material. Her project will be sustained in the future by course directors at the School of Dentistry. With these accomplishments, Ana felt her greatest project triumph was "being surrounded by encouraging voices from the start." She received consistent support and assistance from her School of Dentistry peers, professors, and administrators with developing her project. At the beginning of the year, she remembered where she was still identifying the right project population, and Ana knew she wanted to support the Hispanic community with her project. After hitting roadblocks with other organizations, she chose to work with her School at the suggestion of ASF of Alabama Executive Director Kristin Boggs. Ana's project was shaped by both her dental school and Fellowship experiences. She used her experiences working with Spanish-speaking patients and her classmates to develop the coursework. She acknowledged that her project made her "more conscious of the way she communicates with patients, especially when there is a language barrier".
When asked about the lasting impact she hopes her project has on her patient population, she responded: "I hope that my project will equip the next generation of dentists to be able to provide the same quality of care between their English-speaking patients and their Spanish-speaking patients. And through this accomplishment, Spanish-speaking patients will feel more able and welcome to seek treatment without fear that language will bar them from being heard."
---
Watch Ana and the rest of her 2020 Alabama Schweitzer Fellow class at the 2021 Celebration of Service ceremony, available here.