2020 Fellow Class Performed Over 3,000 Service Hours In A Year of Adversity
Birmingham, AL, June 21, 2021 —– The Albert Schweitzer Fellowship (ASF) of Alabama released today the organization's annual report for the 2020-2021 year that focused on the achievements of the 2020 ASF Fellow class. The 8-page report features the final project outcomes and additional data for the 15-member class hailing from Auburn University, Samford University, The University of Alabama, University of Alabama at Birmingham (UAB), and the University of Montevallo.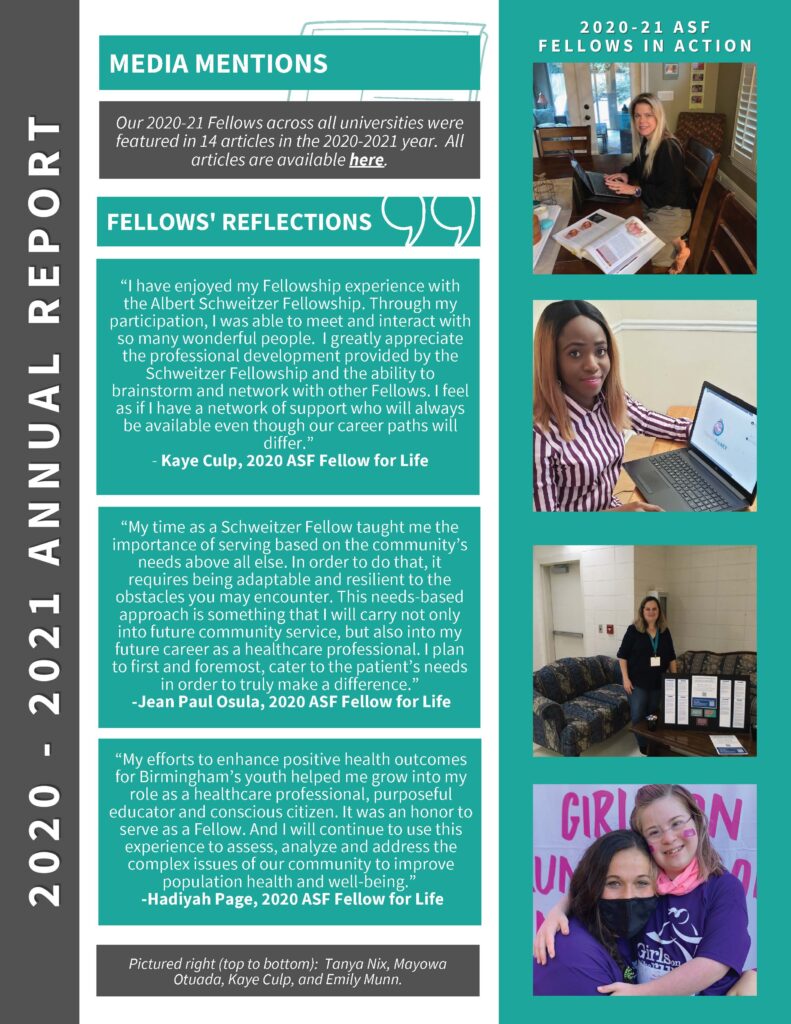 In a year upended by the COVID-19 pandemic, the 2020 Alabama Schweitzer Fellow class transformed their projects to meet the moment. Many ASF Fellows, such as 2020 ASF Fellows for Life Mayowa Otuada, Kaye Culp, Lita Waggoner, and Jean Paul Osula, extended their project offerings to online participants. Others worked with their community-based organizations to create socially-distanced, in-person options. "The 2020 Fellowship class will always stand out as a year full of adversity but ultimately triumph," said Kristin Boggs, Executive Director. "I'm so proud of these Fellows for following through on the commitments they made to their community organizations and project participants. Ultimately, they learned how to rely on each other for technical advice and moral support, and we trust that the resiliency they demonstrated this year will be drawn upon during future times of uncertainty and challenge."  
You can download the full Annual Report here:
Individual reports for the schools within the ASF University Consortium are listed below. 
###
About The Albert Schweitzer Fellowship of Alabama
The Albert Schweitzer Fellowship (ASF) of Alabama is preparing the next generation of professionals who will serve and empower vulnerable people to live healthier lives and create healthier communities in Alabama. To date, 71 Alabama Fellows have contributed over 15,000 hours of service at a value of over $362,000. Nationally, more than 4,000 U.S Schweitzer Fellows have delivered nearly 750,000 hours of service to individuals and communities in need. Additionally, over 100 Lambaréné Schweitzer Fellows have served in Africa at the Schweitzer Hospital in Lambaréné, Gabon. Through this work and through the ongoing contributions of the more than 4,000 program alumni who continue as Schweitzer "Fellows for Life", ASF perpetuates the legacy and philosophy of physician-humanitarian and Nobel Peace laureate Dr. Albert Schweitzer. ASF currently has 13 active program locations in the U.S. The national nonprofit is located in Boston, MA.